Mobile responsive website or a mobile application
These days, businesses face difficulty when deciding on a format for their mobile and smartphone-based products. First considerations that will probably come to their mind is, whether they want a mobile responsive website or a mobile app. Why not both? Both of them offers their own benefits, and one isn't always better than the other, depending on your business needs.
Let's get into the details of each option.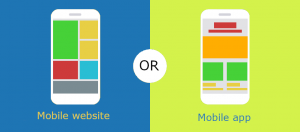 Key differences between a mobile responsive website and mobile applications:
Before we check which is better, it's important to understand the key differences between them. A smartphone such as iPhone or Android can access both apps and mobile websites.
A mobile website is almost like any other website. The only difference is that in mobile responsive website, developers designed your website specifically for mobile screen. URL like "m.example.com" will often house a mobile responsive website. It can also scale to any sized device ranging from desktop to a smartphone. Users can view mobile responsive websites, like any other website.
Mobile apps, however, are very specific applications customized for running on a smartphone. Users install apps on their phone as standalone applications. Users visit a device-specific platform such as Apple's App Store, Google's Play Store in order to find and download apps for their phones. This means that mobile applications are only one layout that is seamless and adapts automatically for their specific phone.
Pros of Mobile Responsive Website:
Creating mobile responsive websites is an older method. Perhaps even less relevant today. In most cases, the pros of a mobile responsive website are as follows:
Time and cost:- Launching a mobile responsive website is a faster process than designing a mobile application. Almost all businesses these days need mobile sites to stay competitive anyway. So creating a responsive mobile experience is the least that developers can do. More importantly, mobile responsive web design is generally cheaper than the costs of designing a mobile app from the ground up.
Compatibility: Mobile Websites are adaptable across devices. A single mobile website can reach users across many different types of mobile devices. Whereas native apps require a separate version to be developed for each type of device. Furthermore, other mobile technologies such as message and QR Codes are easily integrated within a mobile website.
Upgrade-ability: A mobile repressive website is much more dynamic than an app in terms of pure flexibility to update content. If you want to change the design or content of a mobile responsive website you simply upload the edit once and the changes are immediately visible. On the other hand, developers need to push updates to the users, which then must be downloaded on each device, in order to update a mobile app.
Support and Maintenance: The investment considerations of the app vs. website don't end with the initial launch. Properly supporting and maintaining an app is much more expensive than supporting a website over time. Because the app needs to be kept updated all the time.
Pros of Mobile application:
Today, mobile-generated traffic contribute to more than half of global web traffic. Mobile apps are becoming a popular choice for a large number of businesses. Because they want to offer users fast and functional design. Mobile apps take longer to create and are generally more expensive, but they offer several other advantages:
Functionality:  Mobile apps provide more functionality as they are built specifically for mobile devices. This means that apps can easily integrate with other functionalities. Moreover the tools in a device as well as support functions that aren't possible with mobile responsive websites.
Speed: Developers create mobile apps with efficiency in mind. A good mobile app generally has faster loading times than web pages. That's because apps aren't filled with unnecessary elements. Mobile apps are optimized for the user's experience.
Recognition: Nothing beats a mobile app for brand marketing and recognition. Mobile apps put you front and centre on each user's phone. Also, the custom code used to create apps can relay information back to businesses about user behaviour.
Native Functionality– Mobile web browsers are getting increasingly good at accessing certain mobile-specific functions. For example messages, and GPS functions. However, if you need to access a user's camera or processing power an app will still do that much more effectively.
Which one is better?
Perhaps we should be asking, which is better for you? Most businesses need, and already have, mobile responsive websites these days. While native apps generally perform more efficiently, not every business needs one to be successful.
Are you are planning a mobile strategy for your organization? We can help you make informed decisions with the right project plan to match your goals. You can look at our portfolio here.  Please contact us for additional information.