History:
Jorhat lies on the east of Guwahati. The distance from Jorhat to Guwahati is about 327 Km. Jorhat was the last capital of the Ahom Kingdom and home to many historical monuments of Assamese culture. Jorhat is one of the major cities of Assam. It acts as a gateway to upper Assam and to the state of Nagaland. The cultural diversities which prevailed in Jorhat nearly a century ago has inspired the people to participate in cultural activities through the decades and as a result, Jorhat has been able to produce many creative writers, musician, actors, historians, and journalists, terming Jorhat "The Cultural Capital of Assam".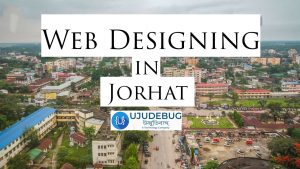 Current Scenario:
Even though Jorhat is a very culture-centric city, it hasn't stopped the people from using technology. In fact, Jorhat is like most other cities where its citizens use the internet. Nowadays everything is online. Most people first check the Google Reviews of the store/business before doing any business. I'm glad to tell you that this has led many local businesses to build up their own online presence. They saw the advantages of having an online presence and adapted accordingly. 
With that said, there are also some local website designing companies in Jorhat who serve the local businesses of Jorhat. Some of the website designing companies in Jorhat are- www.9sdworld.com, www.f1devs.com, etc. There are also many freelance website designers in Jorhat too.
Disadvantages of creating websites from freelancers:
Businesses usually hire freelancers on the basis of their previous projects, which they can easily manipulate. Because the businesses don't have any technical knowledge they can't evaluate what the freelancers say. Often freelancers and clients can't discuss the project over a cup of coffee with clients. This is another most common disadvantage for clients. It means there is hardly any trust between freelancers and clients.
If the client site is down for some reason. The client can't call a freelancer to work on it right at this moment. Because he might be busy with other projects. However, one can call a website designing company since they have the resources to do so.
Freelancers working for the same client continuously for a decade is very rare. Freelancers sometimes will disappear and there is very little that the client can do about it. This is just how freelancing works.
Advantages of creating websites from a reputable company:
All the disadvantages that we talked about before care completely rectified while working with a reputable company. You can talk to the associates and even the owner of said company. The business can explain their problems or needs face-to-face with the company's representative. This forms a deeper level of trust and commitment to the company. 
On top of that, a reputable company will provide excellent after-sales support. Since the company can spare resources to fix their client's issues. Unlike freelancers, a company can never disappear since this might tarnish their reputation. This is the reason we see businesses work with designing companies for decades and not with freelancers.
About Us 
We are Ujudebug and we are a website designing company based in Guwahati. Even though we are based in Guwahati we have a few clients in Jorhat as well. The mission of Ujudebug is to bring great ideas to life and nurture the perfect recipe for complete customer satisfaction. We believe in delivering quality products which are up to our client's satisfaction. 
We also deliver amazing after-sales support. If the client's website is down or not working as intended we devote all our attention to fixing it. If there is a need to incorporate new features we will happily do that for you. Even if the client misses or forgets to tell us about some important features during the planning phase; We'll gladly add the missing features.
Along with creating websites we also create android/iOS apps for mobiles. If you're a local business based in Jorhat, it is high time you invest in having an online presence. Whether it is a website or a mobile app. We also provide other services like digital marketing and SEO.
With the help of all these tools, we can help your business reach new heights. 
Our presence in Jorhat:
Even though we don't have an office in Jorhat, we can send our associates to talk to you in person, if you need it.  So if you're an individual or a business in Jorhat, contact us here. Our team will help you to make your dreams come true. You can check our portfolio here. We have to visit Jorhat a few times a month anyway to talk to our previous clients. We will be glad to have you onboard a well.