While there are obvious advantages for businesses having a website, there are a number of very specific advantages for restaurants.  Here are a few reasons why we think that your restaurant need a website: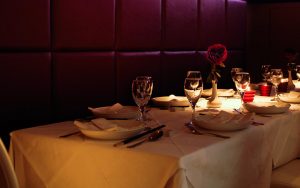 You can convey information to your potential customers:

A website allows you to provide basic information to your customers. Customers may need to know about your restaurant's hours of operation, directions, menu and more. By answering these basic questions on your website, you can decrease the amount of time spend on answering phone calls. You can also keep customers aware of any promotions or offers on your website.

Online booking features:

These days more and more people tend to order food from their homes rather than going out. We can easily integrate an online booking to your website. This will your customers to order food from the comfort of their homes. You can also allow online table reservation on your website. With today's busy generation, it only makes sense to have a table reservation feature. This will automatically make your restaurant seem fancier.

Interact with your customers through their reviews:

You can allow customers to leave their reviews on your website. This will allow you to get valuable information about your customer's experiences. With that information, you can improve your services if necessary. This will help to build your restaurant's image.

Improved awareness about your business:

In today's world, the first place people will look for information is on the internet. By investing time into search engine optimization (SEO) you can help your business show for related search terms. For example, if your website shows for someone searching 'restaurants near me' you will gain more customers. Particularly if you are just starting out, a website is a great method for helping customers become acquainted with your brand.

Low Advertising Costs:

Shooting commercials for your restaurant is expensive. But with a website, you can display an endless amount of information at a cheaper price. This information will also be available 24/7 to anyone with internet access. Unlike national chains, most local restaurants don't have the luxury of re-shooting commercials. If need be, you can easily update information on your website without any cost.

Differentiate yourself from the competition:

All of your competitors have a website and they are using it to promote themselves, thereby stealing your business. It's time you have a website of your own too. A beautiful and easy to use website along with good marketing may convince customers to pick you over your competitors. If you don't have a website in this day and age, people will quickly assume something is off. People tend to find a lack of website suspicious.
LOOKING FOR SETTING UP A WEBSITE FOR YOUR RESTAURANT?
Here, at Ujudebug, we help small businesses build user-friendly and reliable websites that perform well and have an excellent online presence.  For more information about creating a website for your restaurant why not drop us a call or contact us? We have the cheapest options and monthly price packages available in Guwahati.