They bring every product to your door with Cash on Delivery option. They guarantee that only high-quality products will be delivered to your home. They thoroughly check and ensures the quality of each product before it gets delivered to our customers. We are sure you would love them. Presently they serve in Nalbari, Barpeta and Bajali.Now we will go through the various development phases of the mobile app for Daily Mart.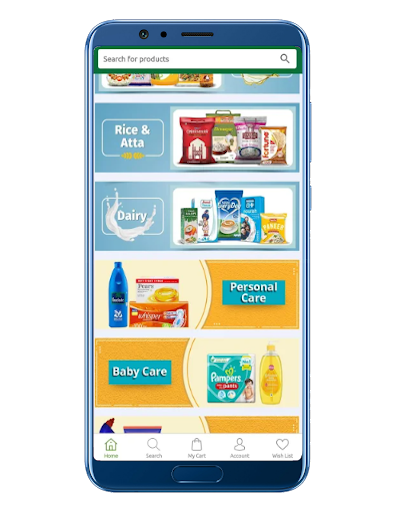 First, we created the admin panel for Daily Mart. This panel is tied to the backend of the app, which means that the admin can change the inventory details. In the admin panel, the admin is allowed to change various things of the app such as adding or removing items from the store, change the price of the items etc. In this panel, the admin also receives the order details of the customers and they can then deliver the products to them. The admin can also look at customers' reviews and add coupons. The admin can do all these without any prior programming knowledge. It is very simple and intuitive.
When we created the UI for this app we had simplicity in mind so that anyone can use this app. The final product is this app which is very easy and intuitive for anyone to use. In this app, the user can shop anytime, anywhere from the comfort of their home. There are also various payment options like Credit/Debit card payment, Net banking and also Cash on Delivery. The user has the option to put any item in the cart. The user can also see their previous orders on this app, which they can reorder if they want to. The user can also leave positive or negative feedback on the products. The user enjoys hassle-free online grocery shopping and home delivery at just a click of a button. Remember to keep an eye out for our upcoming offers.