Do you want to backup your apps, to save some memory on your mobile? This app can also save you some memory if your need any app for future use. Backup your app with this mobile application and get a hassle free mobile using experience.
Features:
- Backup apps to SD card
- Backup Google Play download link for installed apps
- Backup Contacts & SMS & Call logs to SD card
- Restore Contacts & SMS & Call logs from SD card
- Can select SMS conversations to backup
- Delete the backup data on SD card
- Schedule automatic backups - Show last backup count & time - User can change backup folder path in Settings - Can backup Contact's group and picture propertiesCONTACT US Your input is very important to us. If you have any bugs, questions, comments, or need help, please visit us at: http://www.ujudebug.com or contact us: support@ujudebug.com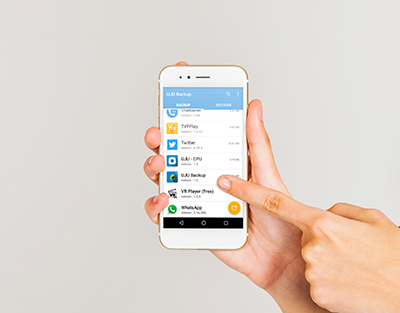 If your phone is getting filled up with all the files your receiving daily and want to free up some space in your phone then you must download this app. Uju Backup helps you keep all the important data and files that you want save it. You can also add new backups and delete the back that you don't want to keep from your SD card. You can store all the data and file as backup on your local storage, which you can easily access to it. Use this app to backup your favorite apps, Google Play download link for installed apps, contacts & SMS & Call logs to SD card. You can also schedule automatic backups that help to keep backup at your time.To keep your important and valuable files and information safe and backup, download Uju backup on your phone now. You find this app Playstore easily.