DynaRoof- Digital Marketing
DynaRoof, the revolutionary new age color coated roofing sheets industry is a flagship company of the Assam based SM Group. A pioneer and leader in the segment of metal roofing in the North East, Dyna is almost a generic name for the category in the area of its operation. Dyna has over the years built up its reputation for its unparalleled quality and outstanding customer supporting the residential and commercial metal roofing market.
Social Media Marketing
Marketing on Social Media platforms like Facebook, Instagram, Twitter & Linkedin, etc.
Content Management
Online Presence
Online Customer Relationship
Facebook Remarketing
Facebook Audiance Network
---
For DynaRoof we did social media marketing on four different plateforms mainly on
Facebook
Instagram
Twitter
Linkedin
---
Content Management
Content management (CM) is the process for collection, delivery, retrieval, governance, and overall management of information in any format. A content management system is for creating, managing, and optimizing your customers' digital experience. More specifically, a CMS is a software application that allows users to collaborate in the creation, editing, and production of digital content: web pages, blog posts, etc.
Online Presence
Online presence in Digital Marketing is how your business appears on the internet and on any social media plate form. It is what people find when they search for your business online and it includes Your website. Your social media accounts like Instagram, Facebook, Twitter, LinkedIn, and any other social media account. And it help your business to grow fast and to reach to many people as possible.
Online Customer Relationship
Online Customer relationship is an important component of a digital marketing campaign that anyone can do for the business. It provides the marketer a good overview and insight on the number of leads that they are generating and compares it to their sales, to know what needs to be fixed or just sacked because the public is not responding to it. And a evaluation that evaluates the company's performance in terms of goal attainment over a period of time.
---
Facebook Remarketing
Facebook Remarketing is the process of segmenting and targeting users who have already interacted with company brand and convincing them to head back to company website and purchase. Remarketing allows a business to create more detailed and precise messaging towards those segmented users. Facebook Remarketing shows your business custom ads to users who have already engaged with your brand online.
Facebook Audiance Network
The Facebook Audience Network is a way for advertising your business to extend the brand campaigns off facebook, into other mobile applications, mobile websites, instant articles, and videos using the same targeting data. Audience networks are useful when a business goal is to increase website conversions, mobile application installation, mobile application engagement, or to generate more clicks to your websites.
Search Engine Optimization
SEO is the process of taking steps to help a website or piece of content rank higher on Google
Google Search Results
Google My Business
Back Links
Website Domain Authority
Page Authority
Google Analytics
MOZ Ranking
Google Search Console
Google Ads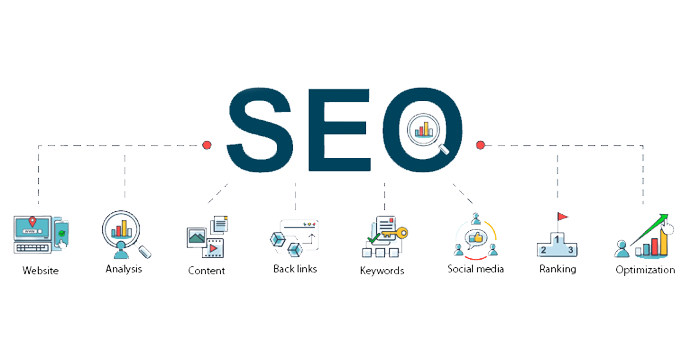 ---
Google Search Results
Most people generally have some kind of idea what they are searching for before they enter it into Google. This is why it can be annoying when a ton of results appear that are not involved in what you are searching for. Being able to streamline your search results can save a lot of time and make it easier to find the result you want. The more precise you can get with your Google search, the more likely you are to find the result that you desire.
Google My Business
Google My Business is a tool that enables you to manage and optimize your Business Profile on Google. So to explain what Google My Business is and how it works, let's first make sure we're clear on what a Business Profile is. Your Business Profile is Google's term for your Google business listing. Business Profiles appear in Google Maps and in the local results of Google Search.
Back Links
A backlink is simply a link from one website to another. Search engines like Google use backlink as a ranking signal because when one website links to another, it means they believe the content is noteworthy. High-quality backlinks can help to increase a site's ranking position and visibility in search engine results (SEO). A backlink is a link created when one website links to another. Backlinks are also called "inbound links" or "incoming links." Backlinks are important to SEO.
---
Website Domain Authority
Website Domain Authority (DA) is a search engine ranking score developed by Moz that predicts how likely a website is to rank in search engine result pages (SERPs). Domain Authority scores range from one to 100, with higher scores corresponding to greater likelihood of ranking. In order to calculate a domain authority score, SEO platform Moz evaluates a number of different factors, consolidating this information into a single score that gives a real insight into a site's current standing.
Page Authority
Page Authority or PA is a score which was created and developed by marketing analytics company Moz, to indicate where a specific page will rank on SERPs. Page authority is different to domain authority, which measures the authority of an entire website. Page Authority scores range from one to 100, with higher scores corresponding to a greater ability to rank.
MOZ Ranking
MozRank represents the importance of links on your website. This is mainly determined by the number and quality of the other pages that link to your website. This range is determined using Moz's own algorithm. It measures the quality and quantity of links on a landing page in particular.
---
Google Search Console
Google Search Console is a free service offered by Google that helps you monitor, maintain, and troubleshoot your site's presence in Google Search results. You don't have to sign up for Search Console to be included in Google Search results, but Search Console helps you understand and improve how Google sees your site.
Google Analytics
Google Analytics is a web analytics service that provides statistics and basic analytical tools for search engine optimization (SEO) and marketing purposes. The service is part of the Google Marketing Platform and is available for free to anyone with a Google account. Google Analytics gives you the free tools you need to analyze data for your business in one place, so you can make smarter decisions.
Google Ads
Google Ads is Google's pay-per-click (PPC) advertising solution, which allows businesses to bid on keywords for a chance to show ads in Google search results. When using Google Ads, you only pay when someone clicks on your ad to visit your site or call your business.