Bhuyan's Foodvilla-Magic awaits you- Digital Marketing, Ujudebug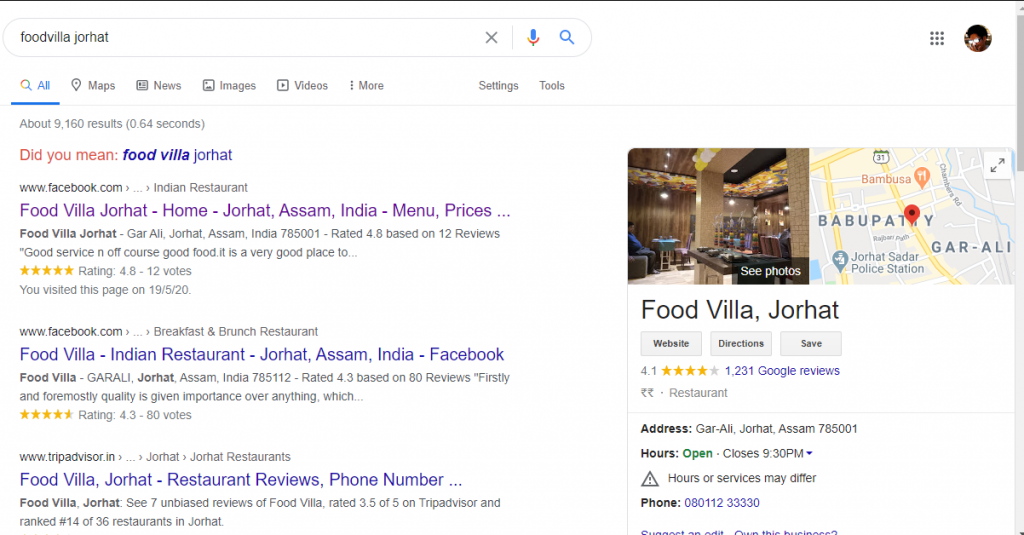 SEO and Optimisation
For this marketing campaign to be successful we had to come up with relevant keywords which described the restaurant. Once those are decided, write SEO-optimized articles which contain those exact keywords to give the algorithm more context. So that we would show up on organic search results. Through the paid search campaigns on Google AdWord, as well as optimising ore clients website, we ensured that Bhuyan's Foodvilla would appear as the top ad result of every relevant search query such as 'foodvilla Jorhat' 'best restaurants in Jorhat'. AS you can see in the image, their website ranks on the top of google search results. This was huge for us since this meant that customers are more likely to dine at their restaurant when they look for restaurants online.
Because they have four restaurants, three are located in Jorhat at Teok, Tarajan and Gar Ali, and one is in HCB Road, Sivsagar; Many of their online orders used to get mismatched. But, ever since we optimised their website and social media accounts none of their orders gets mismatched. All orders are first recorded and then prepared and delivered to them by the relatively nearest branch. This saved them a lot of time and money in the end. Now they can focus more on customer service and quality of the food.
Social media marketing:
These days social media marketing is huge. If you are a business you'll need social media accounts like a Facebook Page and Instagram account. We handled all these things for Foodvilla so that they can focus on giving their customers the best dining experience. One of the important things to know about social media marketing is to select the right social media networks for our audience. We catered towards Facebook more because it is the biggest social media with 1 billion users. We posted various infographic images which helped us to engage with our audience more. Facebook Insight was a really helpful tool for this. This strategy was highly successful since we managed to get 22 thousand page impression on our Facebook page.
Nowadays Facebook also allows its users to book tables to restaurants. This was particularly helpful in bringing in more customers for Foodvilla.